Part 2 - The Roseland Concert Party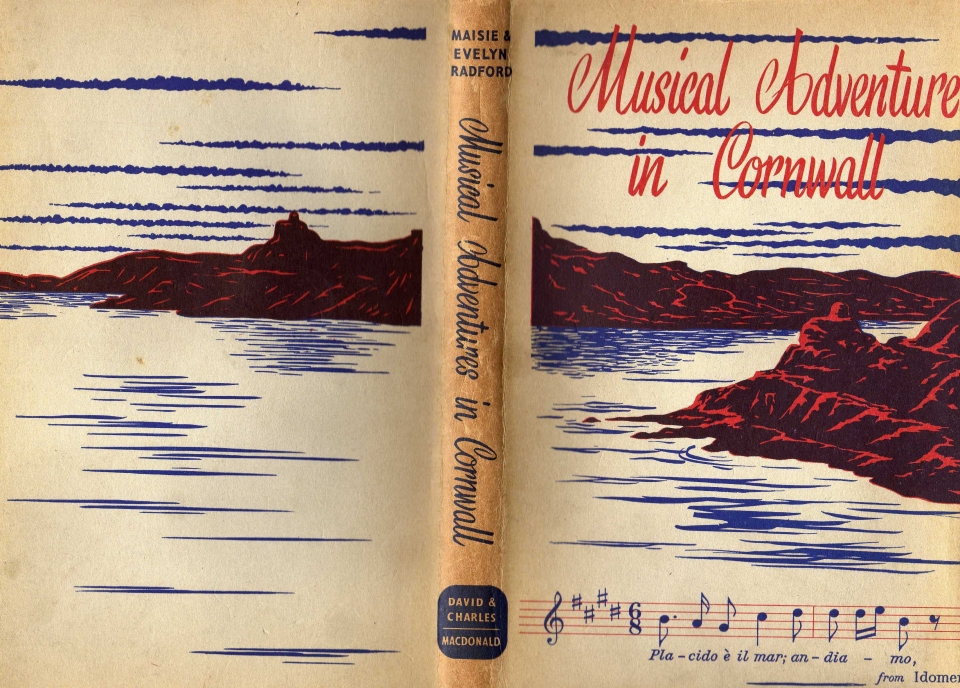 In 1919 they decided to remain in Cornwall and build their lives here. They record the moment when that decision occurred in their book "Musical Adventures in Cornwall".
I make no apology for making extensive use of Maisie and Evelyn's own words today. Apart from the fact that it is primary source material it is also distinguished by an inimitable voice which was well characterised by Frank Howes when he said in his foreword, 'Observe how 'I' and 'we' are interchangeable in their narrative. It is a pity that English grammar has no dual number like Greek, for here would be the happiest and most idiomatic occasion for its use – we two'.
They write, 'So many of our beginnings in various fields of music in Cornwall are associated with some place or incident which we should never forget, as on that golden afternoon when, rowing up the Carrick Roads to buy plums, we finally decided not to go back to London but to stay in Cornwall and make our music there. When the equinoctial spring tides had washed away the last traces of the summer visitors, and only the winter steamboat service was running and Cornwall settled down to her old ways, we felt indeed a part of her as never before.'
Over the 50 years that they lived at St Anthony they communicated their own delight in music all over the county and encouraged others to share it. They played in village halls for WI meetings – they lectured for the Workers Educational Association – they trained choirs and entered them for festivals – they became involved with the Cornwall Music Festival – Maisie was secretary from the 1930s until the late 1960s and Evelyn was one of the official accompanists but it is really for the work of the Falmouth Opera Group that they were most celebrated and through the legacy of their trust 'to promote and encourage musical education in Cornwall' that they are now remembered.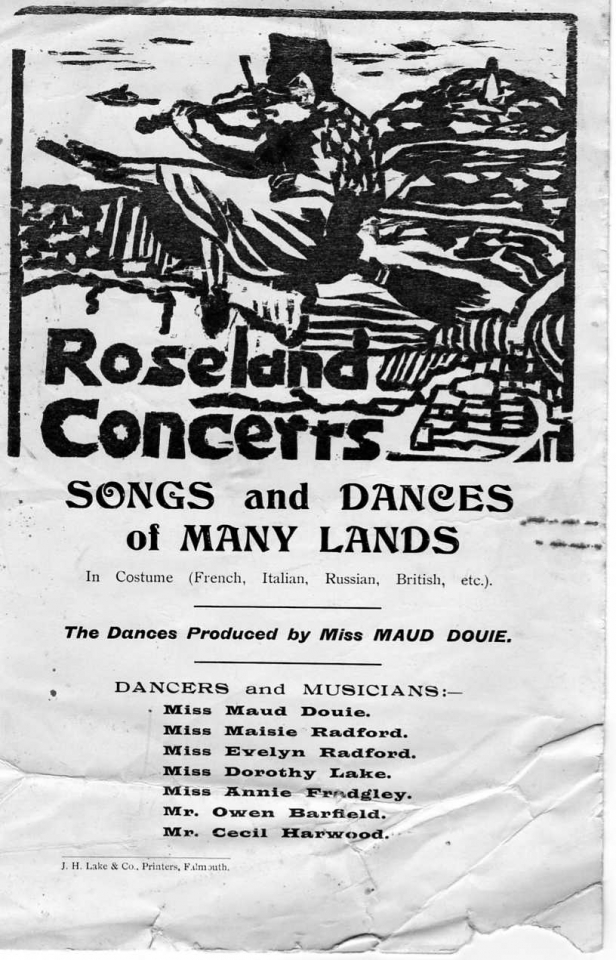 The first production of the Falmouth Opera Group was of Gluck's Orpheus in 1923 but in the early twenties Maisie and Evelyn had been busy taking a programme of 'Songs and Dances of Many Lands' with the Roseland Concert Party around the county.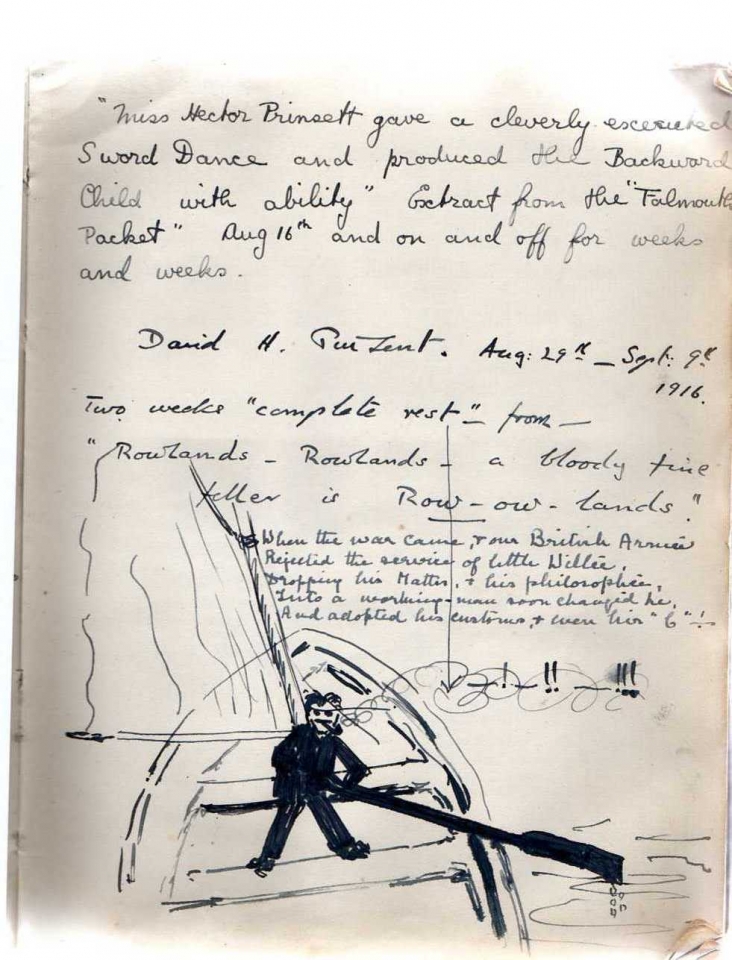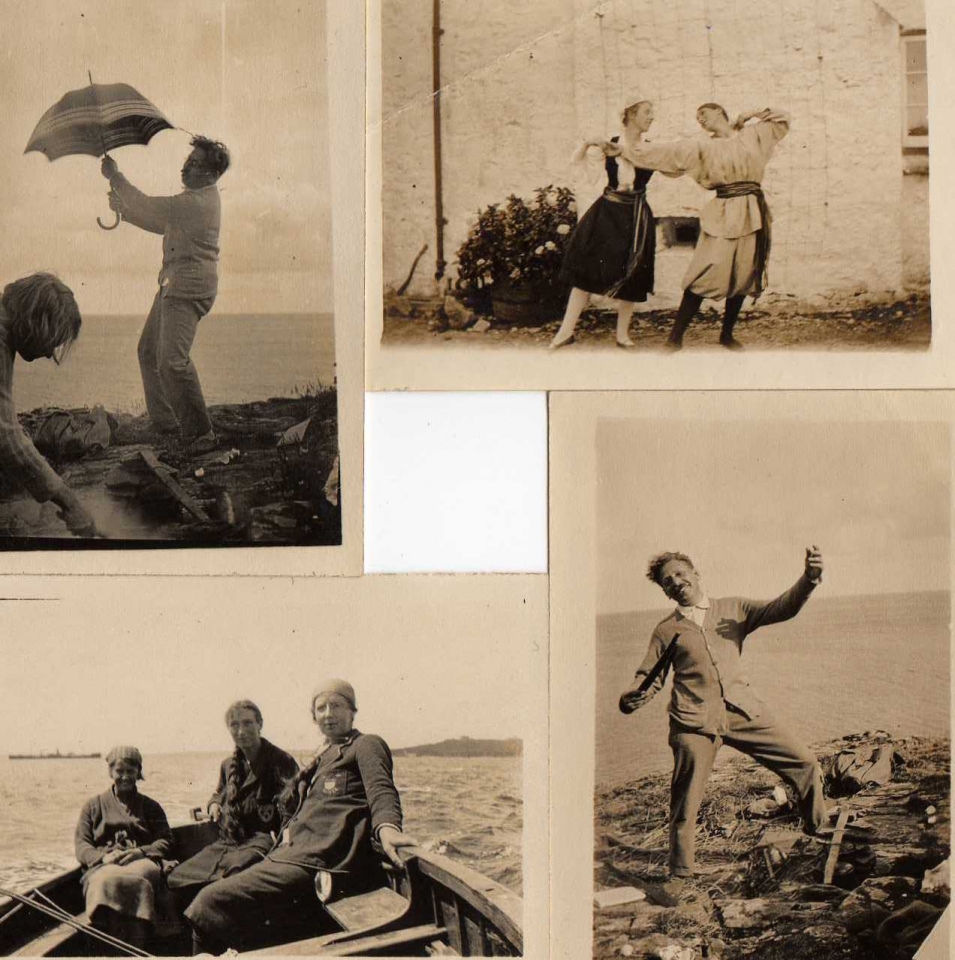 It is worth noting that their enthusiasm for dance is remembered by all the families of the tiny parish of St Anthony who, every Christmas would gather for a party in the Studio at Coastguards where the main event was the dancing of a Swedish line dance. In Musical Adventures they recall,
"These were happy days. Released from our war jobs, happy to be home, happy to be creating something for sheer love of it, happy in our laughter and adventure and companionship. The Log of the Roseland company, to which we all contributed in our odd moments, gives best our carefree mood.
Many of its pages would have no interest for anyone outside the magic circle, but a few extracts may give some idea of gaiety and laughter shared. It is copiously illustrated with pencil drawings and snapshots recording incidents of the tour, and frequently breaks into verse.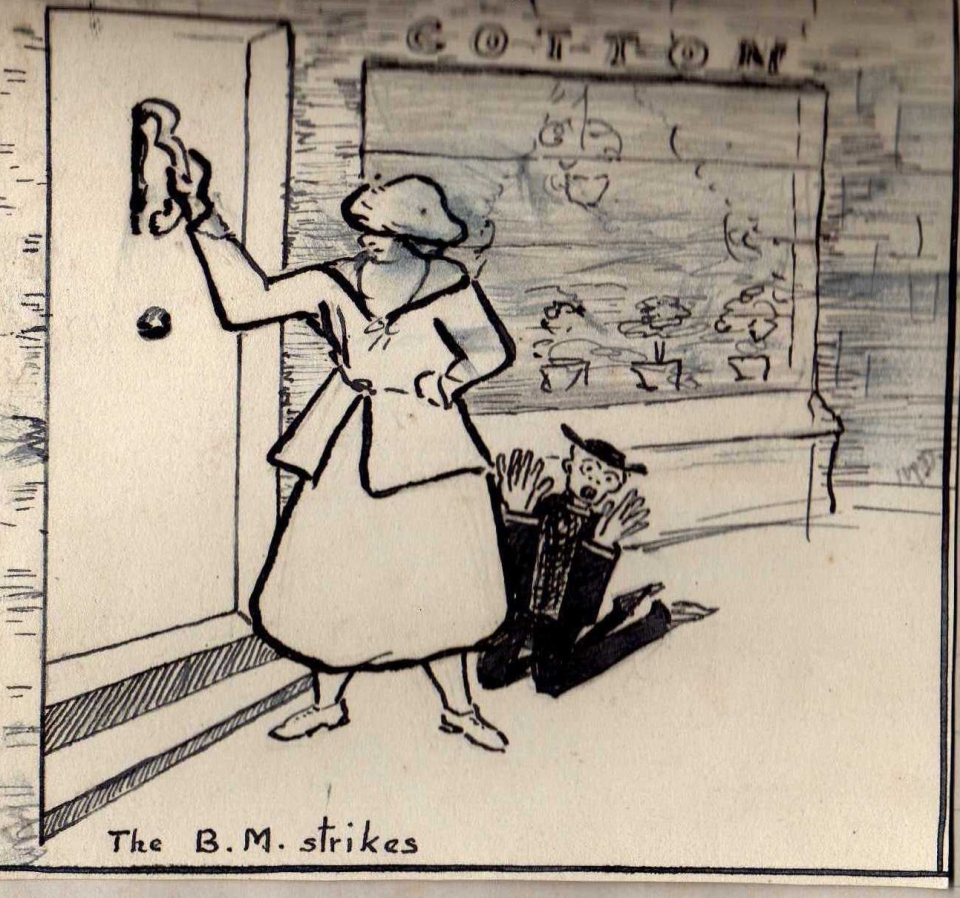 A drawing of a determined figure of the Business Manager (Evelyn) thudding on a large doorknocker on the door of the closed village shop, with a small horrified figure of a clergyman behind her holding up his hands in protest lest she might offend his parishioners, chronicles one of the only occasions when the pianist struck at performing on the dilapidated and discordant instrument offered her and scoured the village for a substitute.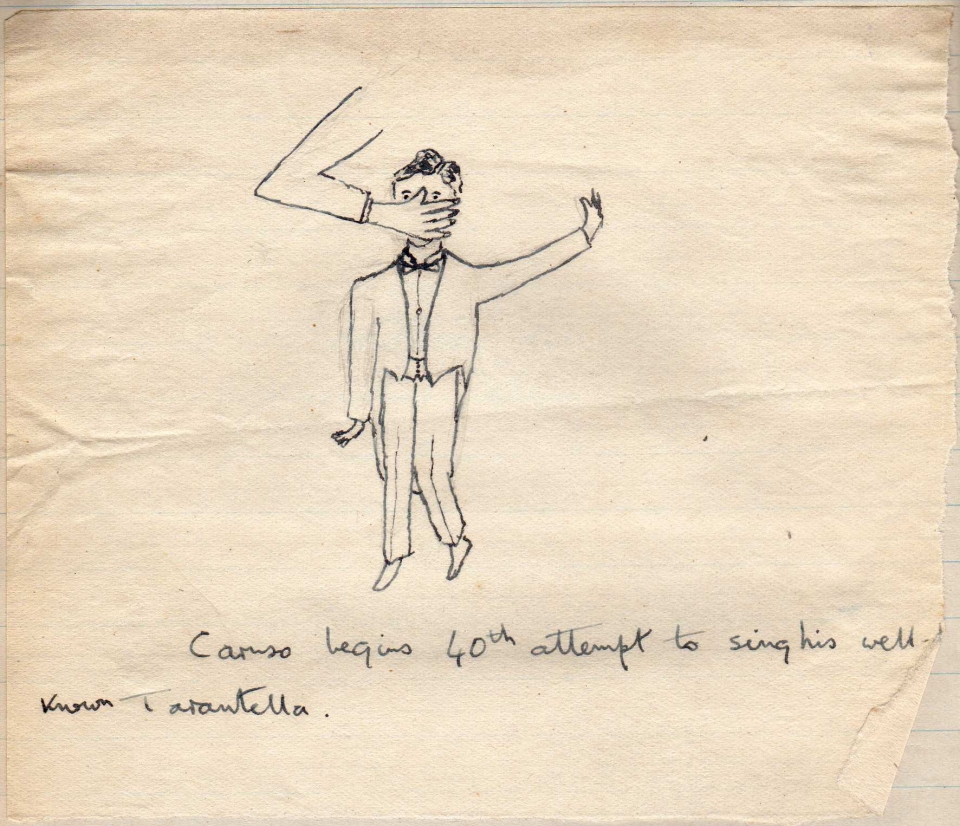 An enormous disembodied arm clapped over the mouth of a male singer and entitled 'Signor Caruso begins his 40th attempt to sing his well known tarantella,' represents the endless repetition of a particular phrase in a gramophone record for the sake of the dancers at rehearsal – one of the few occasions when our patient pianist had a mechanical stand-in.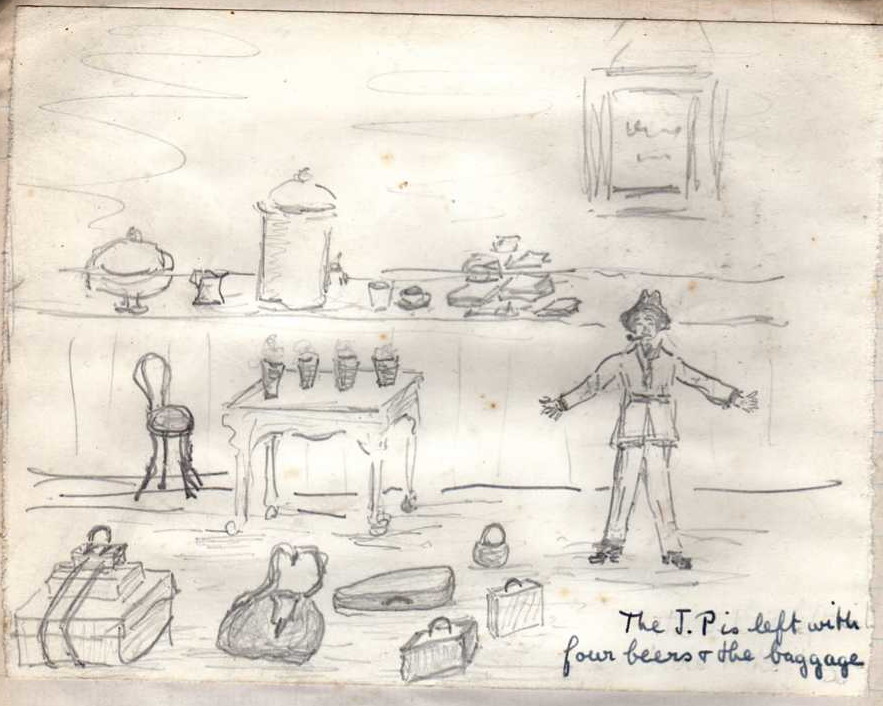 The J.P. (Jeunne Premier) is left with 4 beers and the baggage' illustrates the scene in a refreshment room when, having piled up our suitcases, violin music, sidedrum and the rest, and ordered drinks, the party suddenly realised the train was going and made a bolt for it, leaving him stranded.
These were the days before radio had reached the countryside and a programme such as ours might well have seemed strange to our village audiences. 'Never seen anything like it,' was counterbalanced by an old man's comment, 'We must have they again.' "Of course when you first came to play to us it was all strange. We wouldn't know if 'twas limpets or winkles" commented a farmer's wife some years later. "But we liked it and now of course we know more about it." We found more difficulty with the so-called educated few, the 'elity' as they were sometimes called in the village with a half smile…Even more trying were the well meaning chairmen who constantly compared the grace and dignity of the old dances to, "this vulgar modern dancing" – quite enough to put any audience off, especially the little knot of young people at the back of the hall."
Although it was clearly a significant precursor of the Falmouth Opera Singers, the Roseland Concerts were not cited by Maisie and Evelyn when asked "How was it that you started producing opera?" They would respond instead by saying, "Well there was a pageant in Falmouth and the producer was bitten by a rat!". This was the Falmouth pageant of, I think, 1922 in which all the surrounding villages were to contribute one item. Two weeks before the event the SOS came through. They recall, 'Having little idea of how serious a rat bite might be or of what a turning point in our lives this would turn out to be, we did not at first take this very seriously but promised we would do any thing to help, only to find that the whole production, which was in danger of falling to pieces, was in our hands. Pageants were just then the passion. We had had a little, a very little, experience of what such dramatic experiments could mean; something had to be done and we did produce some semblance of order out of what appeared to be chaos. The costumes only arrived on the same day as the show and were retrieved from the railway station by agitated messengers; the actors fell on them and dressed at random; two distinct Queen Henrietta Marias appeared to promenade the gardens at one point; the audience seated themselves firmly on the green lawn that was to be our stage, and after all attempts to move them had failed, were finally cleared from it by the beginning of the pageant, which consisted of a charge of Saxons….When it was over and we were packing up the idea came to both of us: why not do Gluck's Orpheus?'