Part 3 - The Falmouth Opera Singers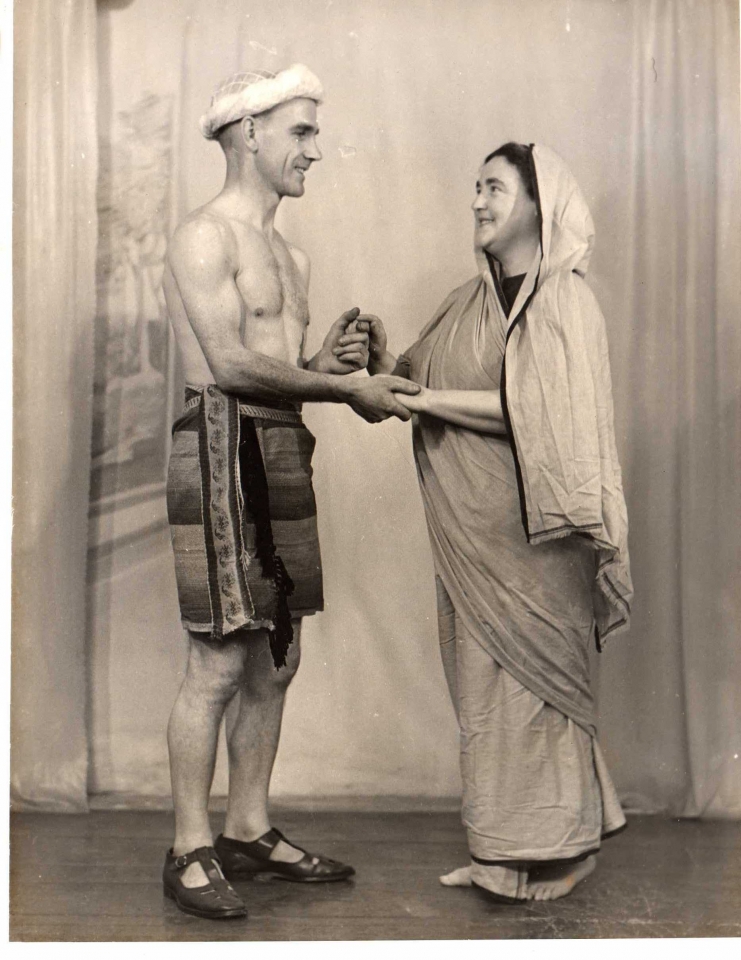 From 1923 until 1968 every year except 1941 they produced an opera in Falmouth – first in the Princess Pavilion and later in the Polytechnic Hall – with a chorus of local singers whom they coached and directed themselves, finding soloists who had never had any formal training many of whom were also Cornish, most notably Kenwin Barton and, from St Mawes, Muriel Peters.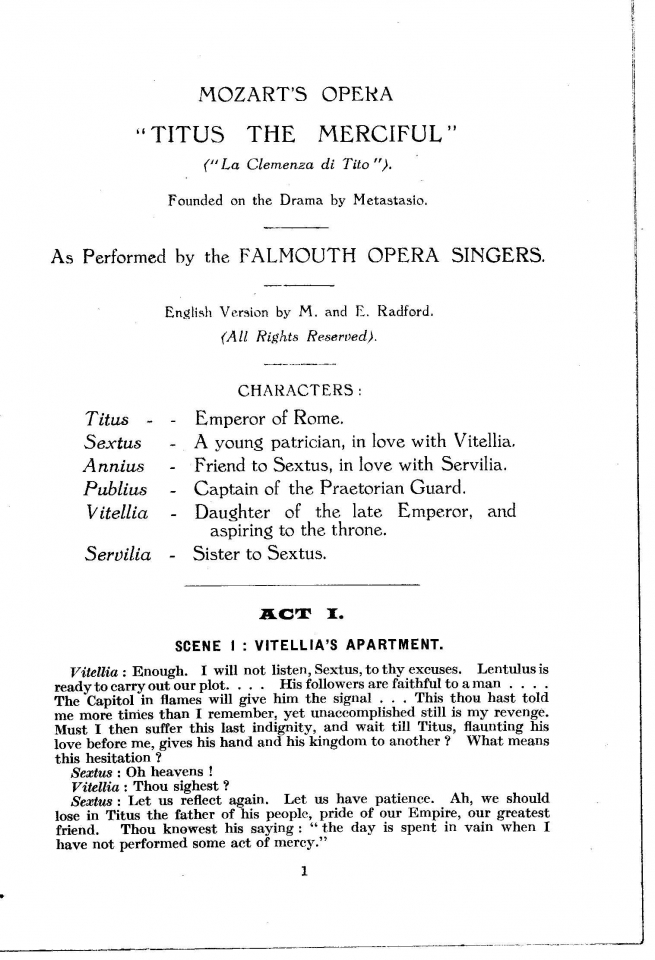 Together they translated libretti if there was no English version. They always chose operas with good choral parts and performed in English for entirely practical reasons – and so it was that they were responsible for the first performance of La Clemenza di Tito in English in 1930 in Cornwall and 1931 in London and the first ever performance of Idomeneo in this country.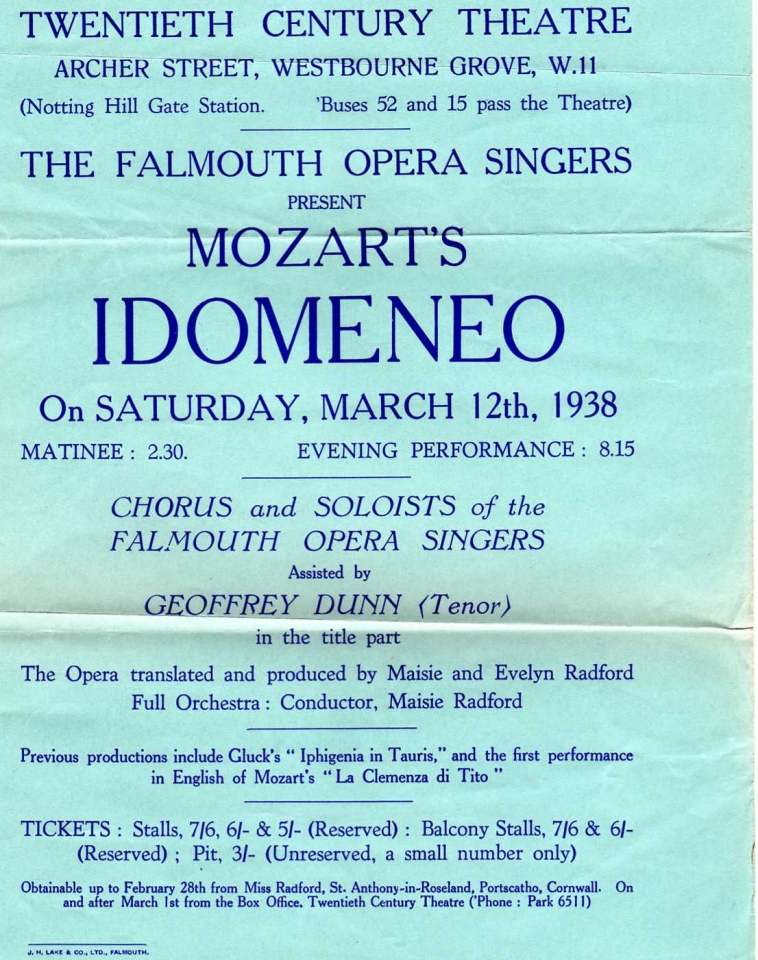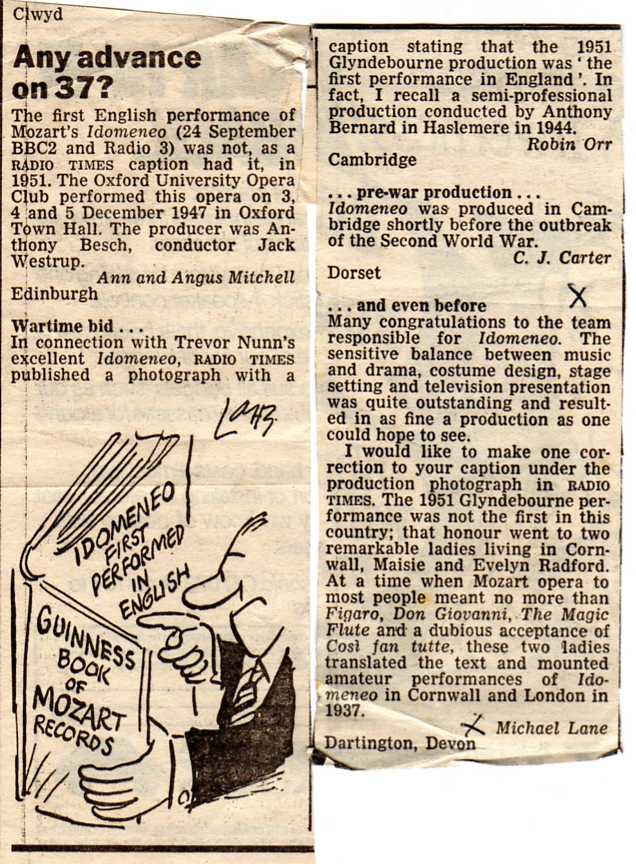 There was an amusing flurry of letters to the Radio Times following an assertion that the first English performance of Idomeneo had occurred in 1951. Claims for a 1947 Oxford University Opera Club production, a 1944 semi-professional production in Haslemere, one in Cambridge 'shortly before the outbreak of the Second World War' were all trumped by Michael Lane who wrote, "The 1951 Glyndebourne performance was not the first in this country; that honour went to two remarkable ladies living in Cornwall, Maisie and Evelyn Radford. At a time when Mozart opera to most people meant no more than Figaro, Don Giovanni, The Magic Flute and a dubious acceptance of Cosi Fan Tutti, these two ladies translated the text and mounted amateur performances of Idomeneo in Cornwall and London in 1937."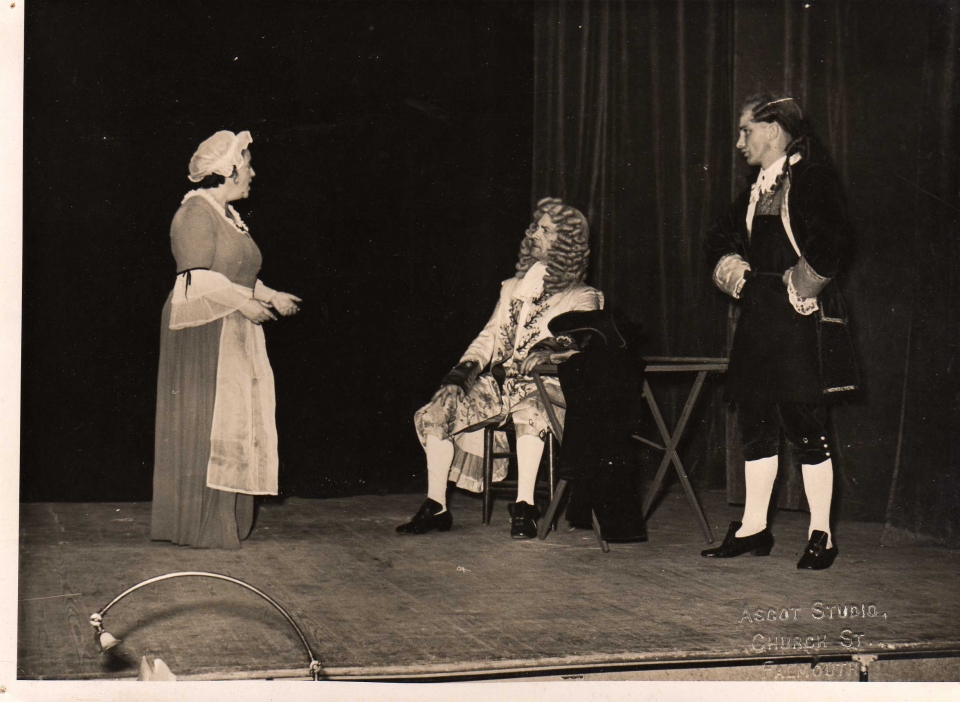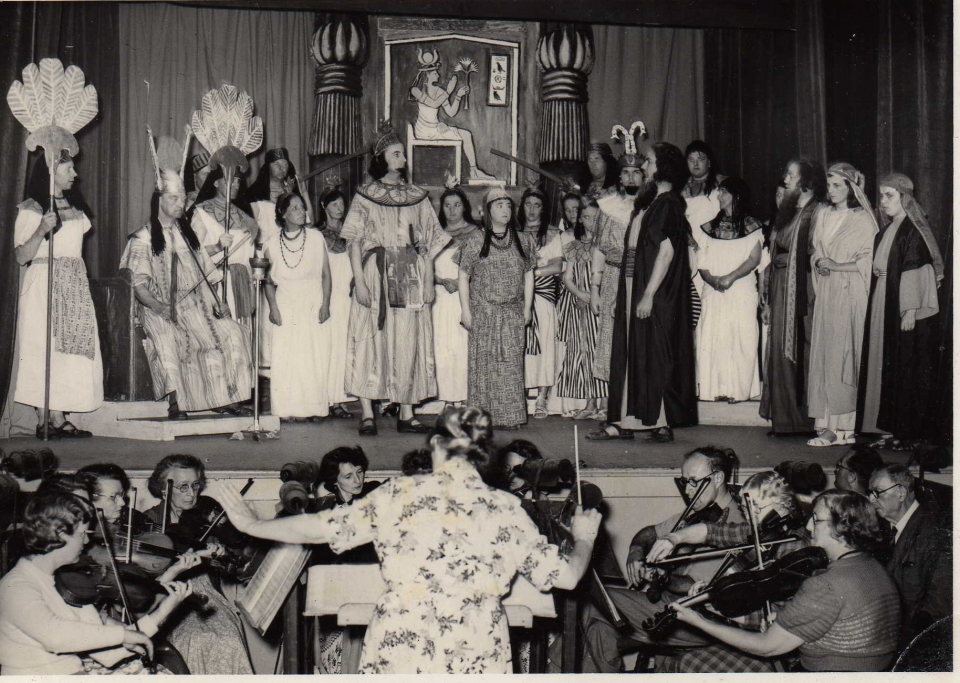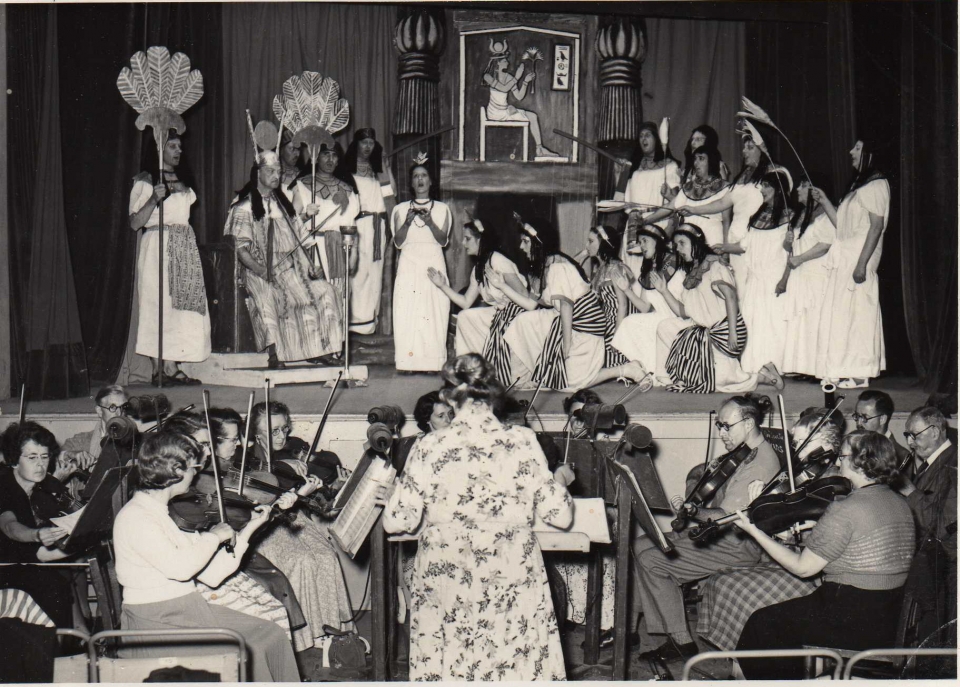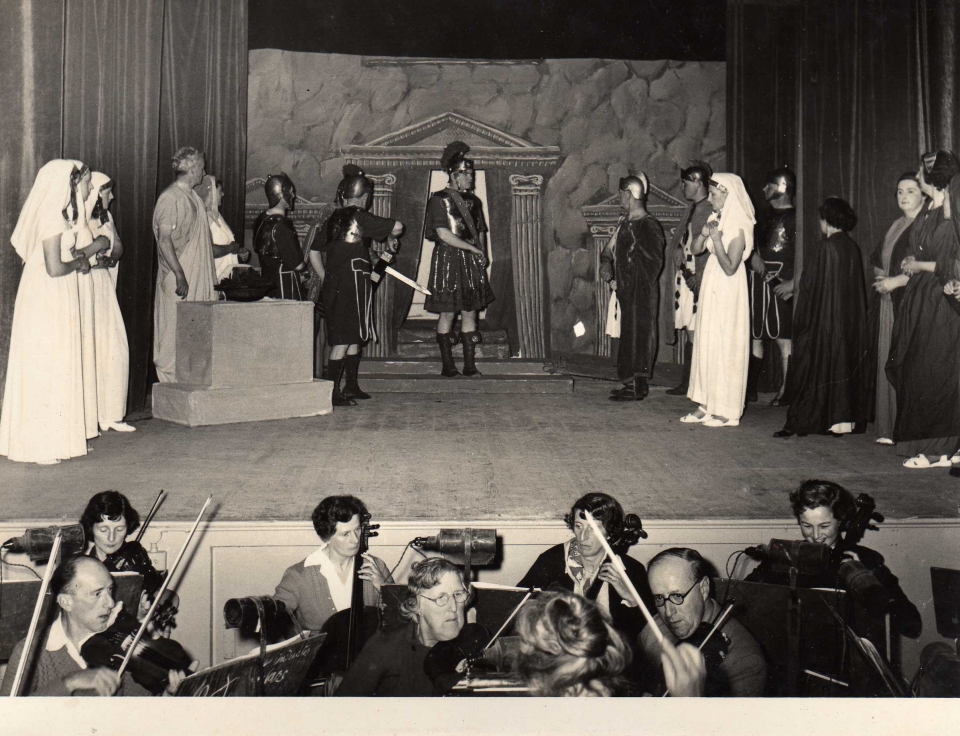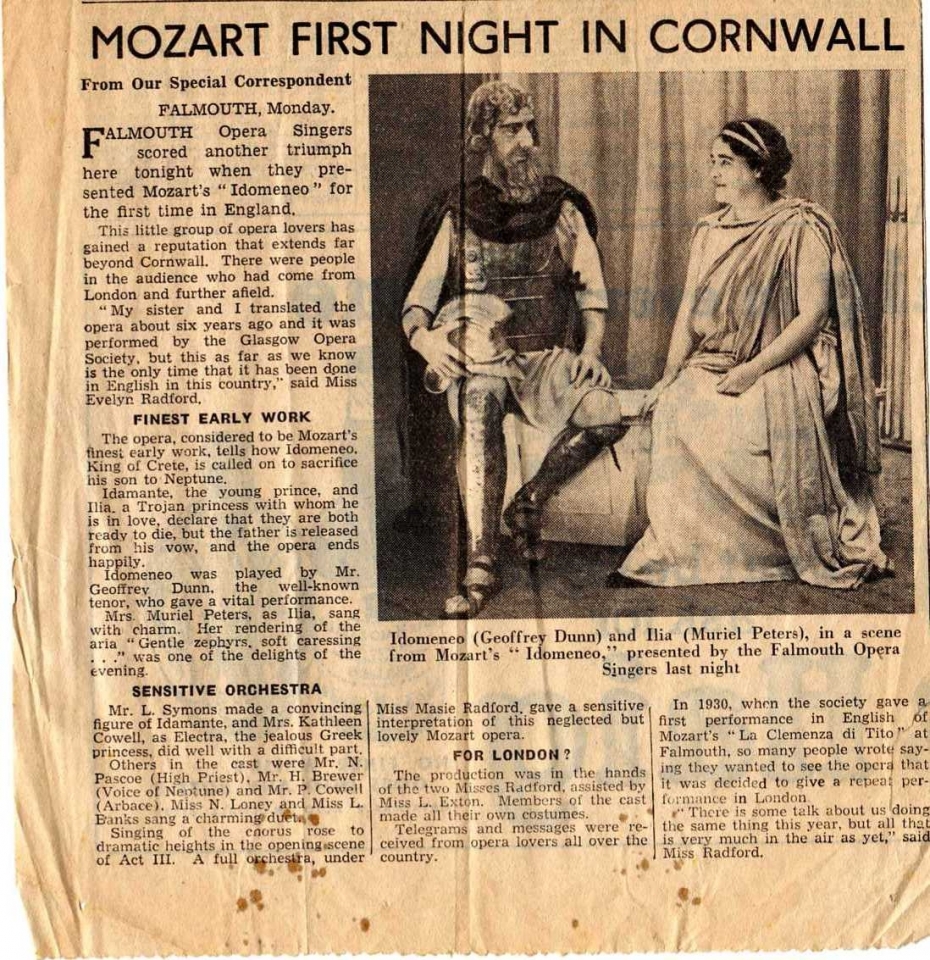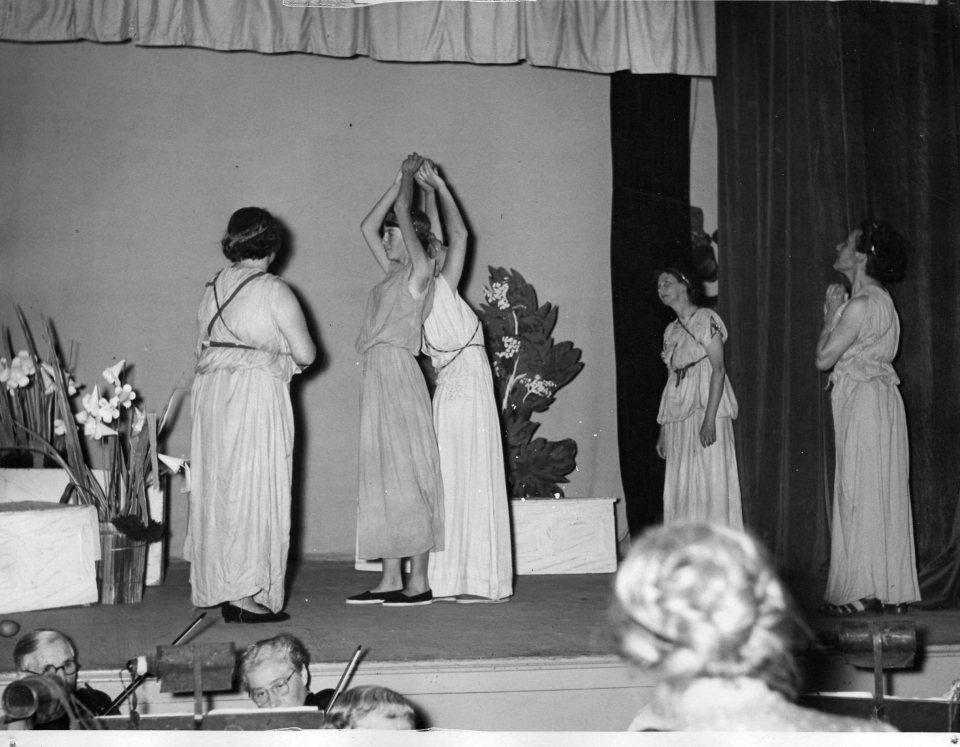 Apart from introducing Mozart's opera Seria, they also produced Il Seraglio, the first performance in England of Rossini's Moses In Egypt, most of the Gluck Operas, Orpheus at least 3 times, the Iphigenias and Alceste, Purcell's King Arthur and Dido and Aeneas, - stage performances of Handel's oratorios, Samson, Saul, Athalia, Acis and Galatea and Belshazzar, Montiverdi's Tancredi and Clorinda, Debussy's The Prodigal Son, modern operas by Vaughan-Williams, Gatty, Rutland Boughton, Stanford, Holst and in 1964 to a libretto written by Maisie, an opera by Cornishman Philip Cannon, 'Morvoren', which considering the success of Duchy Opera's recent production of The Wreckers, is surely due a revival.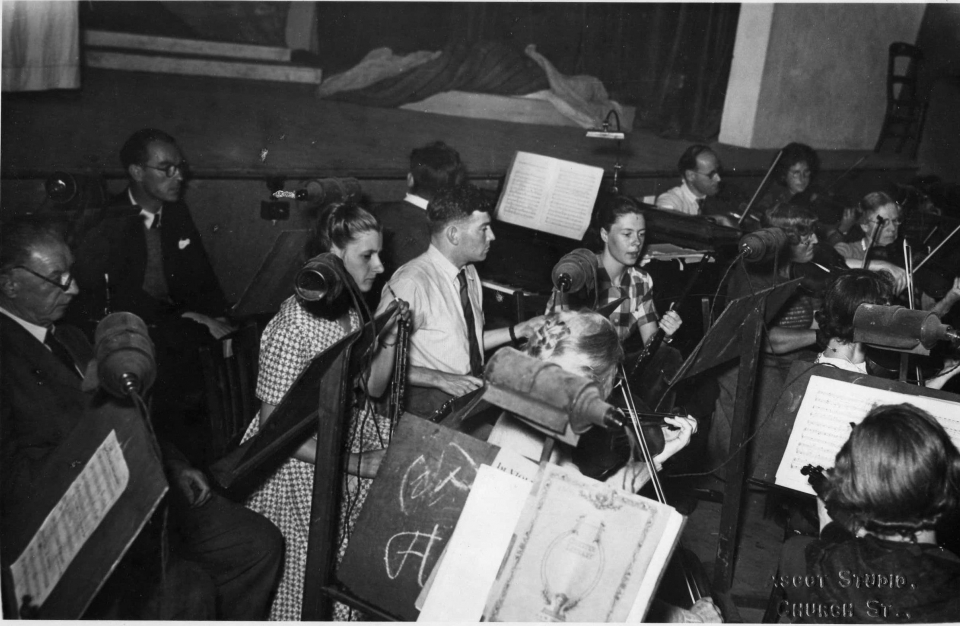 All this on a tiny stage with an orchestra of local string players and a wind section in later years supplemented by students from London.
Everything about the productions should have invited at best sympathetic amusement – but in fact very often left the audience moved and amazed. In the creation of sets, props and costumes there was great ingenuity.
From Musical Adventures again,
"The chief prop of Orpheus was so strongly made by a furniture maker that it is with us today: others less durable and precious have been adapted, cut down and metamorphosed in many ways. At some full rehearsal of I forget what opera, somebody called up to our first versatile stage carpenter and helper, "Mr Barnicoat, where's that plywood well we had in Elijah?" and a voice came from the flies; "Get away my dear, don't you remember, you made him into mountains!"
…Materials for scenery we scrounged where we could, some kindly washed up for us by the sea god. Out of the sea came a well seasoned balk from which Conor O'Brien fashioned in one piece a beautiful model greek ship, carried appropriately in the procession to the honour of Neptune in Idomeneo. The props often acquire names. A shapeless lump from a ship's fender, kapok filled and covered with dirty grey painted canvas, is known as 'the massy ruin' being used in Acis and Galatea by Polyphemus to kill the hapless Acis.
Useful gap filling flowery plants are nicknamed 'the amiable vegetables' after the 'vegetabili cari ed amabili' of Handel's Largo. Most of our costumes are basic sets adaptable to many styles. A set of greek women's dresses which have figured in all our classical operas date from the first Orpheus. For Iphigenia in Tauris they were dyed for us by one of the domestic Science teacher's Home-craft classes to the terracotta red of greek pottery, and were used against black velvet curtains, our chorus giving the effect of the groups on a red figured vase."